Holiday 2022 Poinsettia Fundraiser
KHF's Poinsettia Fundraiser is a holiday tradition because we've been providing Kentuckiana with the lush, colorful "Christmas Plants" for more than 30 years!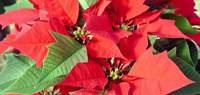 Through KHF's website, you can place your order well in advance to make sure that you have the healthiest plants all ready for holiday festivities, while helping a worthwhile charitable cause at the same time.
Orders for the greater Louisville and Lexington areas may be placed by calling the KHF Office at 502-456-3233 or 800-582-CURE to place their order, or download and mail/fax the order form, or use the paypal shopping cart. Orders for the Owensboro area may be placed by calling the KHF Office, mailing or faxing the order form or by contacting the volunteer listed on the order form.
And, as with the spring flowers, your orders may be picked up at designated times and locations listed below, while orders of 25 plants or more, can be delivered (add $20 for local delivery and include your phone number for scheduling). We'll begin taking orders in November.
Like the Spring Flower Sale, the Annual Poinsettia Sale depends on a strong volunteer effort to be successful. Therefore, we are in need of volunteers across Kentucky to help take flower orders on behalf of the KHF.
» Download our Order Form here or Place your order online!
Through the generous financial support of individuals and companies, KHF is able to make a positive difference in the lives of individuals and families affected by hemophilia or related inherited bleeding disorders. Consider making a Paypal donation today!