The annual educational meeting is KHF's major educational forum.
This meeting usually consists of a half-day of educational activities and takes place during the first part of August at a central location in our state. Regionally-and nationally-known speakers are invited to address issues of interest or concern to the inherited bleeding disorders community as well as general wellness topics.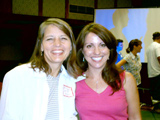 Topics addressed to date include Current Treatment Approaches, When Chronic Disease Is Invisible, Hemophilia Then and Now Consumer Panel, Inhibitors, Hepatitis C, Genes 'Re Us, Infusaports, Health Insurance Portability and Accountability Act, Laugh and Let Live, Ricky Ray Relief Fund Act, Tools for Effective Parenting, Liver Disease in Individuals with Hemophilia, Blood Safety, Orthopedic Problems and Joint Disease, Bleeding Disorders and Their Impact on Women, and Gene Therapy.
This event usually begins with breakfast and ends with lunch. Vendors are present from the pharmaceutical and home care industries. Child care and/or a children's program is offered as well.
his annual event attracts a participant group of approximately seventy-five consumers, their family members, and medical providers. For more information, contact us at the KHF office for more information.