KWOP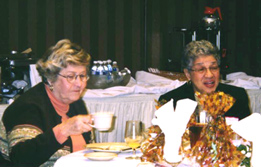 The Kentucky Hemophilia Foundation provides comprehensive medical care for individuals with inherited bleeding disorders and is administers by the Commission for Children with Special Health Care Needs.
This outreach project seeks to identify and link women with inherited bleeding disorders to treatment and support services.
Do you have:
Heavy periods?
Multiple Bruises?
Frequent nosebleeds?
Unusual bleeding from your mouth or gums?
Excessive bleeding after having teeth pulled?
Swollen, painful joints?
These could be signs of von Willebrand disease.
Von Willebrand disease is a bleeding disorder caused by a defect in or shortage of a blood clotting protein called von Willebrand factor. It affects 1% to 3% of women and girls.
Symptoms include easy bruising, long nosebleeds, heavy periods, and mouth bleeds.
Von Willebrand disease can be inherited from either parent and can affect both males and females. It can be tested for and treated by a hematologist, a doctor who specializes in blood diseases.
Von Willebrand disease can usually be treated very easily. If you have signs, then you could have a bleeding disorder that requires specialized care.
To receive a free packet of information about von Willebrand disease, available treatment, and support services, please contact us.
Through the generous financial support of individuals and companies, KHF is able to make a positive difference in the lives of individuals and families affected by hemophilia or related inherited bleeding disorders. Consider making a Paypal donation today!